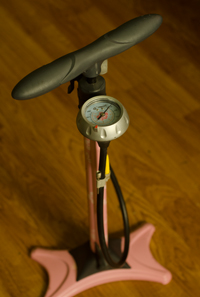 Besides being PINK, what distinguishes the WFP-200 as a Women's Pump?
To start with, the gauge is not mounted on the floor, it's up there at the top of the pump so you can see it without glasses. It has a red triangle at the 100 psi mark so there's no squinting to get an accurate inflation.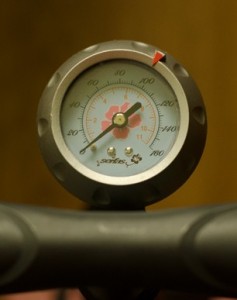 Most important, the Serfas Floor Pump WFP-200 has a reduced stand over height which increases your leverage and is particularly useful towards the higher end of inflation.  Even at five feet, I can inflate my tires–almost effortlessly.
The pump is easy to use. The valve is universal and accommodates both shrader and presta type inner tubes. The price  of $45.00 is well within budget  if purchased from http://www.serfas.com, but can be found elsewhere online, for less. Serfas offers a limited lifetime warranty  (I couldn't find any fine print on their website). Plus, most of the parts are replaceable and affordable.
The best reason to support this company?  They manufacture a terrific 650c tire called the Urbana. Unfortunately, they don't sell them directly… but you can purchase these tires from the one and only retailer in the world who sells them– R+E Cycles.
And trust me, the boys don't touch my pink pump. It's mine.