Inertia Design's motto, "Mediocrity Sucks," got my attention.  How can you can go wrong with their cycling bags when they are:
Made in the U.S.A.
Made to last, with a guarantee on all products and workmanship for life.
To achieve their vision of being the premier US manufacturer of quality cycling bags, Inertia Designs relies on these three components:
Design- They strive to innovate, always looking for ways to improve products based on real-life experience.
Materials- The main fabric used by Inertia Designs is Cordura® Nylon, which "wears like iron, and stays looking good for years."  They also use YKK zippers and a host of other superb products that last.
Craftsmanship/Quality control- Inertia Designs employs only the most skilled US operators  (who pay US  taxes), using the best machinery possible to create cycling bags of the highest quality.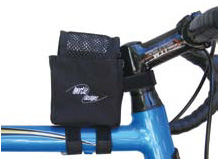 Tri-Box Small
My 47 cm top tube doesn't leave much room for a Triathlon type snack bag.  But Inertia designs makes a Tri-Box in a size small which is only 3.5″ x 1.5″ x 3.5″ and weighs 1.25 oz.  It's lined with 14 oz truck tarp for extra stability and easy cleaning.  It closes with a mesh flap and velcro closure. With this smaller adjusted size, and its added stability, I can come off the saddle and not have my thighs rubbing against the sides of larger, wobbly bag.
A.T. (All Terrain) Expandable Wedge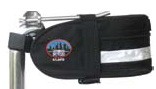 This expandable wedge is a must-have for longer rides when you need a place to stuff a pair of leg warmers and a wind/rain shell.  By unzipping the expansion sleeve you increase the volume over 40%. It's made of the rugged Cordura® mentioned above and has a HDPE shell to hold it's shape and, according to Inertia Designs, "guarantee a stable blowout free ride."
Inertia Designs products are widely available on the internet.  Not only that, but if you have an event requiring fifty or more bags, Inertia Designs can emblazon your  logo on their products.