It all started when my husband said, "With the new compact bicycle geometries, I bet you can get a bike that fits and has two standard 700c wheels."
For the previous seventeen years I'd been riding a 17.5 inch Terry with a 24" front wheel and a standard 700c rear wheel.  It was my first bike that wasn't a 19" men's frame.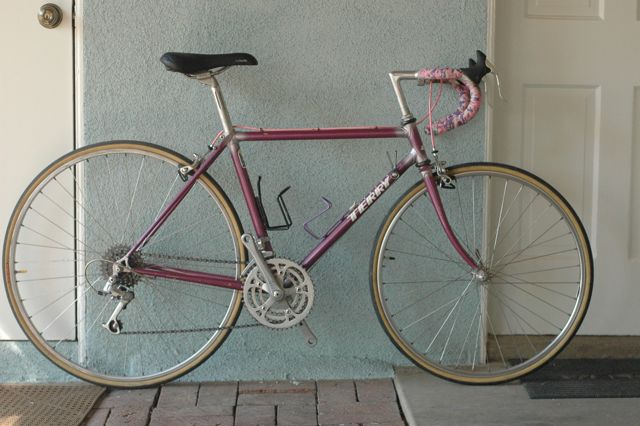 But, I didn't feel confident with the way it handled and could never take my hands off the handlebars. Yet, it still fit better than any of the other bikes I'd owned. When I purchased it at half price for $600, I swore I'd never need to buy another bike again. That is, until my husband suggested compact frame geometry might offer me a new option.
After hundreds of hours of research, I have come to the conclusion that manipulating a frame's geometry has been the erroneous basis for producing women specific bicycles– particularly in smaller sizes.  Bicycle manufacturers have  made tremendous progress in acknowledging the existence of women cyclists, and for that  I must give them credit.
Buyer beware: Just because a bike is called a women's bike, doesn't mean it will fit, or that you'll be comfortable riding it for more than a few miles at a time.
I found all this out the hard way, disregarding recommendations made by the owner of an elite bike shop who told me I needed a custom frame.  Unfortunately, his  "don't you worry little lady, we'll take care of you,"  attitude was enough to make me gag.
I thought I was in good hands at a different bike shop, when a blonde saleswoman assured me, "I would never sell you the wrong-sized bike." Unfortunately she was about 5'8 and didn't know about the special needs of petite women.  She sold me a 47 cm Cannondale Optimo for $1900 and I rode away delighted, thinking I'd gotten a great deal especially because of its higher end components.
A month later, I hobbled into the bike store to see if a new, shorter stem would ease the nearly crippling case of sciatica I'd developed.  When the stem didn't work, I returned to the bike store and insisted they try to fit me again to my Cannondale.
When the senior fitter kept telling me to sit on the back end of the seat– and I couldn't while still holding the handlebars–I knew there was a big problem.  That's when he told me I was a perfect candidate for a custom bike. "But you folks just sold me this bike!"   Needless to say, I was enraged.
I kept asking these experts, "What size would a custom bike be?"
Dan Towle gave me the great gift of his time and expertise.  That's when I learned Rodriguez bicycles makes 15 STOCK sizes for women, four of which are for women under 5'2″.
Bicycle fitting is not a mystery, it's a skill that involves observation, communication, and measurements.  Dan Towle at R&E Bicycles encouraged me to complete his online fit form so he could tell me what size bike I should be riding.  I didn't need a bike shop to do this–I needed a friend.   In the process, I learned how millimeters matter when it comes to bike fitting.  The Cannondale I'd been riding had a 50.5 cm top tube, whereas the bike I eventually bought from Rodriguez has a 47cm top tube (and 650 wheels).  Later, I learned how head tube and seat tube angles also affect top tube length and how the temporary replacement for the Cannondale I'd been riding (a Trek), was more like a triathlon bike than a road bike.
Most recently I have discovered that crank arm length is the single most important aspect of a proper bike fit after frame size and has been the most significant feature in improving my cycling performance.
The new buzzwords in bicycling are fit and comfort and you'll be hearing a lot about them in the future.
The resources and reviews on this site should help guide you to a selection of bikes that fit.  Lengthy and often silly discussions about how 700 cm wheels are "faster" than 650 cm wheels can be found all over the internet.  This site will give you a different opinion.  Petitebikefit.com encourages you to find the best fitting bicycle so you can enjoy riding comfortably, confidently and safely.