Are you tired of energy and recovery snacks that are chock full of nutrients but have a chemical aftertaste?  How about those "natural" snacks that taste like dirt or gravel rather than nuts and fruit?
Are you one of the growing group of riders with gluten intolerance?  Have you been told to chew your nuts thoroughly?
In my opinion, Honey Stinger produces the best tasting products out there; thoughtfully manufactured to meet your cycling-specific nutritional requirements.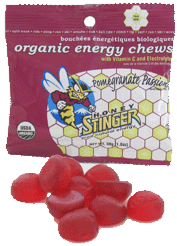 Organic Energy chews (Gluten-Free)
These chews are delicious with one gram of tapioca protein in each package. They are gluten-free, dairy-free, with no GMO ingredients, 0 g trans fats, and no partially hydrogenated oils. Their sweet taste comes from honey– pure and simple.  They taste better than gummy bears and come in a variety of flavors, including caffeinated Limeade.  Pomegranate Passion is my favorite. They are softer and smaller than many other brands and leave no weird  aftertaste.  Plus they don't stick to your dental work.  160 calories /1.8 oz package.
Protein Bars (Gluten-Free)
Honey Stinger protein bars are gluten-free (but are made in a facility that processes gluten although they claim the lines are meticulously cleaned in between  production runs),  and contain no trans fats, over 30% USDA certified organic honey, 10 grams of whey protein – 20% of the daily recommended allowance, 22 vitamins and minerals, calcium and antioxidants.
Have you ever taken a bite out of an energy bar that had all the required nutrients but tasted like chocolate sawdust and wondered why you weren't just eating a Snickers?  The latter would certainly be more satisfying and provide at least as much sugar.  Well, I'm happy to report that Honey Stinger's protein bars make you feel like you can have the best of both of both worlds. My favorite is the Dark Chocolate Mint Almond (this bar only comes in the 10 gram size).  The biggest problem is that they are coated with dark chocolate and will definitely melt in hot weather.  One reason I love the 10 gram size is that it's small enough to enjoy in one sitting, so you don't have to lick your fingers a second time.  It definitely fulfills your jones for chocolate while giving you a hearty dose of whey protein, almonds, vitamins and minerals.   Don't worry, the almonds are already in tiny pieces that don't require excessive chewing.
Flavors: Dark Chocolate Cherry Almond, Dark Chocolate Coconut Almond, Peanut Butta Protein Bars (available in two sizes- 10 gram and 20 gram); Dark Chocolate Mint Almond (available only in 10 gram size).
Classic Energy Gels (Gluten-Free)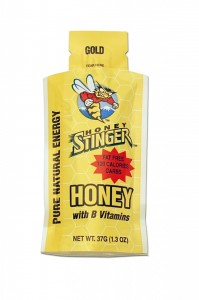 Most of the gel concoctions on the market are vile.  I once had a super sweet chocolate gel that had the consistency of cake frosting (some would say paste) with the worst chemical aftertaste that just lingered and lingered. By comparison, Honey Stinger uses Honey (imagine that) mixed with water, potassium citrate, salt, vitamins and minerals.  Their product tastes like real food. You can even carry a packet with with you and add it to your tea or coffee.   Their classic energy gels come in five flavors: Gold (plain), Banana, Chocolate and their Strawberry and Ginsting flavors have an added blast of 32 mg of caffeine.   The flavors are all subtle and don't overpower the clean, natural taste of honey.  These gluten-free  gels provide instant energy and are easy to swallow!   I haven't yet tried Honey Stinger's  new Organic Energy Gels that have Organic Tapioca Syrup added to their formula.  These come in three flavors:  Vanilla, Fruit Smoothie, and Acai & Pomegranate.
Energy Bars (Contains Gluten)
These bars contain malt which has a small amount of gluten.  They come in four flavors: Apple Cinnamon, Berry Banana Buzz, Peanut Butter and Honey and Rocket Chocolate.  I liked Rocket Chocolate and Peanut Butter & Honey (before I was gluten-free), but the Dark Chocolate Mint Almond Protein bar is still my favorite.

Waffles (Contains Gluten)
If you're not gluten-free, then you may want to try these individually wrapped, waffle-like cookies which come in a variety of flavors (Honey, Vanilla, Strawberry, Chocolate, Lemon).  Nobody else makes a product like this and and my own family raves about them.
Honey Stinger products can be purchased at REI and Performance Bike Shops (waffles and gels only). Or you can order them directly from their website at http://www.honeystinger.com.
Good news–they now accept paypal.