One thing I don't particularly like about cycling is wearing clothes made from synthetic fibers.  They fit tight (and unless you have six pack abs, this is just not flattering), but have a sensational ability to wick and dry quickly. I continue to wear synthetic fabrics because I sweat profusely and live in a warm climate.   This is especially important in Los Angeles where even in autumn, temperatures can climb to the triple digits.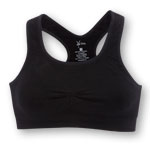 Athletic bras offer the same claims about their wicking ability.   But, even after a short climb, when I reach the summit, my synthetic bra is drenched– and remains so—long after I've made my descent, leaving me saturated and chilled (even in the summer), for the duration of the ride.
I look forward to peeling off my cold, sweaty, bra and putting on a soft cotton t-shirt.   I love natural fibers and yet it would never occur to me to consider anything made of wool
Like many of you reading this, the wool we grew up with was too itchy for comfort.  However, this renewable, sustainable and eco-friendly material has endured because of its unmatched qualities—it is temperature regulating and naturally antimicrobial.
And now, wool is making a comeback.  It's called Merino wool and, it's machine washable and so soft and fine, it could almost be confused with cashmere.  The wool fibers are small enough to be measured in microns.
According to Ibexwear.com,
a human hair is 60 microns wide compared to an old wool scarf made of wool fibers 30 microns wide.  Ibex outdoor clothing is using Merino wool to make bras–that's right –bras–using fibers only 17.5 microns wide.
I cannot describe what a genuine luxury it is to slip on one of their women's balance sports bras.  The seamless construction of this garment provides great comfort and ample support for low impact exercises like walking and cycling.  Plus the mixture of wool, nylon and spandex is soft and does not bind or leave unsightly bulges.  The sports bra comes in black, ivory, triathlon red and alligator green.
Even in the summertime, I can climb to the famous Griffith Park Observatory wearing one of Ibexwear's jog bras and never feel cold, clammy or itchy.  Sweat is wicked to the outer layer where it dries quickly.  When I get home, I simply hang the bra up to dry and the next morning it's as fresh as if it had just been washed.  There is absolutely no residual odor, making this a perfect travel bra as well!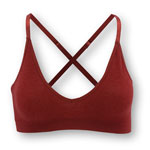 Ibex offers several different styles with a variety of support options including a more traditional light bra with straps that can be adjusted with a racerback option, and a support bra for medium-to-high impact sports like running.  As a size note, I found that the light bra runs a little on the small side, but am anxious to try their support bra for running.
I'm so impressed with Merino wool by Ibex that now I'm wondering how bike shorts and jerseys made of wool would stack up to their synthetic competition.