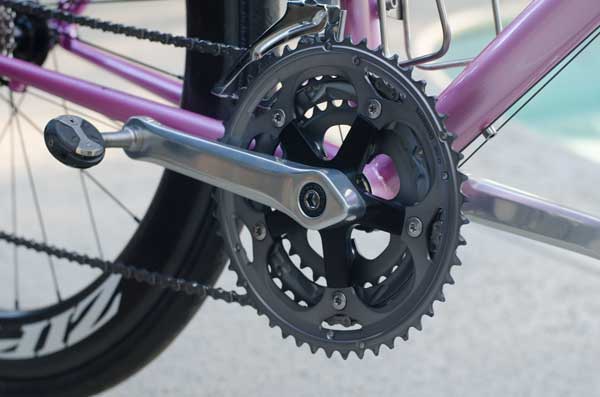 Lennard Zinn has been ahead of the curve since 2003, making robust crank arms for the big boys who live on the right side of the bell curve. Since his wife stands a mere 5' 2", he understood her need for shorter crank arms as well,  and started manufacturing them for petite cyclists at the same time.
Made of 6061 aluminum, Zinn cranks have a beautiful, shiny, fast finish and are available as short as 130mm increasing up to 160mm in 5 mm increments. They are available for triple and compact crank set-ups.
They are expensive– running  $459 (+) for a set.  But once you have them, they will likely last you forever.
They are one of the best investments you will ever make towards the improvement of your cycling, and will change the way you ride.  I used to get dropped on every hill — even if it was just a bump in the road. Now — watch out.
Once you decide to purchase crank arms to match your body proportions, call Zinn.  In fact, if you are still not sure what length to order (even after using the formula of 21-21.6% of your leg length), call Zinn.  Service is part of his business.  His cranks are incredibly well made here in the USA.   I'm bummed that mine don't have the Zinn logo on them–this would be handy as a conversation starter with other petite cyclists.
My only comment is that since the cranks were initially designed for tall men, the smaller ones may be a bit overbuilt.  While Shimano's crank arms and bottom bracket weighed in at 595 grms, the Zinn set up I installed (with a Phil Wood bottom bracket) weighed in at 815 grams—220 grams more.  Remember, rotating mass significantly increases the overall weight of your bike in a 2:1 ratio.  Meaning: adding one gram of rotating mass is like adding two grams to the weight of your bike.   So while it takes more effort to get the weight moving, the momentum you gain will also be greater. My experience with these cranks is that the increase of power in my performance has outweighed (pun intended), any additional weight to my bike. And the good news is that if  Zinn cranks are overbuilt, they will probably never wear out!
Winter is a great time to get your cranks switched out if weather makes riding impossible.  The installation requires a square taper bottom bracket, so you will need to budget for that as well as the cranks themselves.  If you are using Shimano components (which I now advocate for a variety of reasons), there should be no compatibility issues. I do recommend you specifically communicate the model of your current cranks with the folks at Zinn.    Unfortunately, if you ride Campagnolo, the proprietary bolt pattern on their cranks and chainrings are not compatible with the Zinn Cranks, and so you will need to purchase new chain rings as yet an additional expense.
 According to Zinn, "The vast majority of our customers have reported increased power, easier and faster climbing, decreased times on local rides, less fatigue, less joint pain and overall performance increases when they went to the proportional length crank."
This has definitely been my experience.  Please let me know how your new, shorter crank arms have improved your cycling!
By the way, if you are wondering why the issue of crank arm length didn't arise when I first purchased my bicycle, let me explain.  To start with, information about correct frame size for petite women was sparse.  Debate about wheel size was, at the very least– convoluted, if not completely wrong, "650c wheels are slower than 700c," and discussion about crank arm length was limited to "Are you a masher or a spinner?"
There was very, very little information out there about crank arm length as it applies specifically to smaller riders, mostly because availability beyond the standard (165, 170, 172.5 and 175 mm) options was severely limited. Click here to see my resource page on crank arm length!