Even though I'd been using Look pedals for years, I didn't like the fact that my chances of clipping in were only 50%with a single sided pedal.  This was especially a problem if I was trying to clip in on a hill.  To top it off,  I'd developed a weird abberation in my stroke with my knee moving in circles rather than straight up and down. The result was increasing hip pain. My foot needed more rotation than the maximum 9º of float offered on Look's red cleats.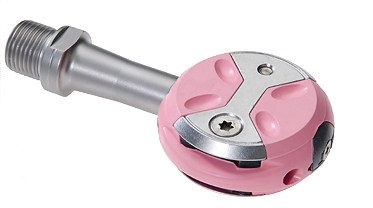 Seriously, pink is not the reason I fell in love with these pedals although I did need a more friendly pedal system. Speedplay is the only manufacturer of a double-sided pedal, specifically for road use. Designed for recreational riders who weigh less than 175 pounds, The Light Action Pedal features a latch mechanism with lower tension for greater ease in clipping in and twisting out. Their pedals are affectionately called lollipops because they have a small, thin circular design which, according to Speedplay, allows for better cornering with its reduced stack height. Their competitors are quick to counter that the small, concentrated contact area of the pedal contributes to hot foot.
Speedplay has engineered the most adjustable pedal system on the market with a fore-aft extender base plate kit which provides an additional 2mm forward positioning and an especially generous 14 mm rearward positioning (which is great if you tend to have problems with hot foot.) Plus, they have leg length shim kits if you are one of those people who needs additional support.  If you have wider hips, or a wider "stance," custom length spindles are available in  50mm, 56mm, 59mm and 65mm lengths in both the titanium and stainless versions of this pedal.
Because the latch mechanism is on the cleat, you can clip into either side of the pedal.  The down side is that there is no separate spring tension adjustment. And even though these are supposed to be light action pedals,  I had problems clipping in and out with my Specialized Torch shoes. The installation instructions caution against over tightening the screws since they can have the effect of tightening the spring adjustment;  while loosening the screw too much may simply cause the cleat to fall apart.
I did not have this problem when I installed new cleats on my S-Works shoes.
Speedplay cleats are more expensive because they're made of metal and are at least twice as slow to wear, compared to the plastic competition offered by Look.   They require occasional dry lubrication when dirty and you notice it's harder to clip in and out.  Use dry-type (Teflon or PTFE) lubricant such as Super-Lube Dry Film, RZ-50, DuPont Performance Dry, Liquid Wrench Dry Lube, Pro Gold or Blaster Products or you can get the SP brand of dry lube available from their website.
Speedplay cleats can attach to shoes with either a three or four bolt pattern.  Specific instructions, which can be difficult to understand, include a list of compatible cycling shoes and the necessary adapters (which are included) to keep the cleat properly conformed to the sole of the shoe for trouble free cycling.  I suspect that using  incorrect shims during the installation of my original set of cleats may have been the cause of my problem clipping in and out. Next time I'll have the bike shop install them.
Speedplay pedals don't have to be replaced, they are designed to be repaired.  The only maintenance required is greasing the pedal bearings every 2,000 miles or so (more frequently in dusty or dirty conditions). Greasing is easy with a built in grease port and handy grease gun (also available from their website).
I love these pedals.  I never fumble looking for the right side of the pedal when the light turns green.  My hip pain is gone and my knees are no long making circles during my pedal stroke. I can easily start my bike on a hill and even if I don't clip in right away, my shoes do not slip on the pedal.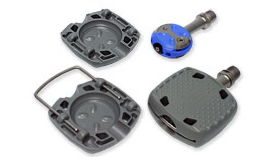 For an additional $10. extend the life of your cleat with coffee shop covers.  For an another $24.  you can purchase a "platformer"  a no-tools-required device that transforms your pedal into a traditional platform for use with street shoes.
Light action chrome-moly, stainless steel and titanium pedals are available  in red, blue, yellow and black.  Did I mention they also come in PINK?