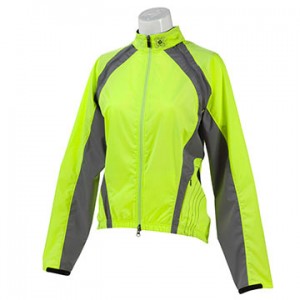 Visiblity is everything, like in the early morning, when drivers are not fully awake or especially during rainy conditions.
I needed a lightweight jacket for the unpredictable weather from Seattle to Portland, and the Specialized Deflect Hybrid Jacket was the answer. The neon yellow was the perfect color for my riding buddy to spot me in a crowd (there were 10,000 riders).
Since this hybrid jacket/vest is fully wind and water resistant, it doesn't breathe very well. However, Specialized cleverly equipped this "cyclist's must-have" with a variety of options.
For example, the jacket has velcro closures on the bottoms of the sleeves along with zippers under the shoulders which unzip forward from just behind the armpits. These pit zips give you, the rider, an initial way to moderate your body temperature. Still too warm? A series of three snaps just beneath the back collar, and two velcro closures remove the yoke and sleeves as one unit, creating a vest with a mesh yoke in back, and plenty of additional ventilation, while still providing wind and rain deflection.
The jacket comes with two zippered pockets, one in back which is large enough to store your sleeves, and a pocket on the left side but, mysteriously, none on the right.
I love this jacket because it's so versatile. However, even with a wide back, I've wondered if I would be more comfortable in a smaller size as the sleeves are super long.
Also,  knowing when to start peeling off layers is a very important skill.  Without it, you may find yourself in a rainstorm of sweat between you and your jacket.  When you no longer need to wear an outer shell,  the entire jacket folds up and can fit into it's own rear zippered pocket.
Note: With some practice, a confident rider could probably remove the sleeves while riding. I don't encourage this, and I certainly don't believe you can put the sleeves back on while moving.