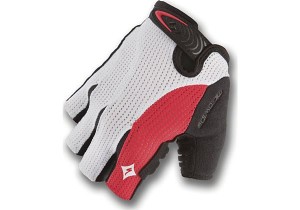 Whenever you see the Body Geometry Logo on a Specialized product, you can be sure that a good deal of research has been employed in its design. This is once again true for the BG Gel Cycling gloves.
The high-quality, gel padding extends over three areas of the palm; protecting the thumb, finger joints, and the entire width of the heel of the hand. The purpose of this padding is to more evenly distribute pressure which helps minimize numbing in your hands (particularly the ulnar nerve).
The position of the foam correctly follows the shape of my hand, providing superior protection and shock absorption. I have yet to find a more comfortable pair
of cycling gloves.
Even with all the padding, the leather is soft enough so that I still have full range of motion in my hands. I wore these gloves day after long day on Cycle Oregon (on rough roads paved with chip seal) and my hands didn't suffer the way the rest of my body did.
The size small fits snugly (maybe I needed the mediums?), and so taking them on and off has stressed the fabric on the back of the glove, causing several small holes and a rip in a seam. I've also noticed a strange tan on my hand consisting of tiny lines that run in the same direction as the tiny holes in the mesh fabric on the top of the gloves. I find this mildly amusing.
Even after a year, the padding shows no sign of wear! If I were to guess, the mesh fabric will be the limiting factor on the life of the BG Gel Cycling Gloves. These gloves deserve your attention. Go try them on!