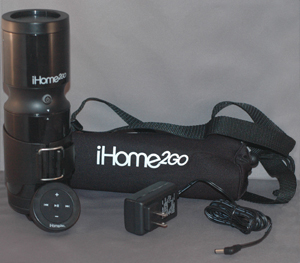 "On your left," I yell, trying to alert the cyclist in front of me that I want to pass her.  She doesn't budge.  "On your left," I scream, louder this time—but still, no reaction.
I'm riding a flat 20 miles around the local park – the same route I've been riding for years and it's boring.  The only way to extract any value from this ride is to try for a personal best on my new Rodriguez.  "On your left" I scream again as I'm passing her.   This time she jumps in her seat because I've startled her, and I notice she's wearing ear buds.  Until this moment, she hasn't heard a thing.
Does she ride like this through traffic?
I've worn an ear bud two times while riding my bicycle. On both occasions, I nearly had accidents.  Don't get me wrong, there's nothing I'd rather do than blast a medley of tunes by the Pointer Sisters into my body while I speed around the park, or up a tough hill—but I don't dare.  It's too dangerous.
I must employ diplomacy while discussing this matter with my teenage son.  Like many kids his age, he acts like he's immortal and insists on listening to music when he rides.  His defense: "I only use one ear bud."
Enter the iHome2Go (also referred to as the iH85BX and the Bike to Beach Bicycle Speaker for iPod).   If you're a recreational cyclist who absolutely needs music to move, this item might just be the ticket.  My goal was to provide my son with a safe alternative to his one ear bud.
The geniuses behind iHome2Go thought of just about everything.  Here's a list of what comes packaged with the product itself:
An AC adapter that allows you to recharge your ipod while installed in the canister.
Remote controller with handlebar mount
Neoprene drawstring bag with shoulder strap for the beach
Bicycle cage with clamp
All necessary mounting hardware
The speaker canister looks like an oversized to-go cup and is made of a water and impact-resistant polycarbonate case.  The speaker is situated on top of the canister, which sits snugly in the cage provided.  It twists open at the center, allowing you to slide your ipod into the slot. (Please note: the iHome2Go works only with docking ipod models.  It is not compatible with ipod shuffle and not recommended for ipod touch or iphone. (Click here for more details.)
It is imperative that you replace one of your water bottle holders with the enclosed cage, which has a special clamp, and will keep the iH85BX connected to your bicycle. Without it, one big bump will send the canister flying.    Using the remote control that slides into the mount on your handlebars, you can manipulate the speaker volume or jump backwards and forwards effectively shuffling through songs that don't have the right beat. The remote control easily slides out of the mount and back onto the top of the speaker for easy transport in its neoprene case.
The sound quality is surprisingly good and the volume output is loud enough to be heard on a fairly busy street.
The only thing missing are 4 AA batteries.
The trouble with the iHome2Go is the weight.  No, I don't mean the song by The Band, but rather the combined load of the speaker and cage.  If you are one of those racers counting every single gram of weight on your bike, the iHome2Go is not for you.  It's heavy—plain and simple.
But a bigger issue, according to my son (who goes so fast he doesn't care about the weight), is that when you pedal, the movement of each leg passing the speaker disrupts the sound flow and makes it seem like someone is playing with the balance.  "It's annoying," my son told me as he was removing the unit from the seat tube of his bike. He did admit that by mounting the cage elsewhere, he might not have had this pesky problem –the only hitch was that the cage didn't fit on the down tube. Remember, this is from a kid who doesn't find it "annoying" to listen to music in one ear bud.
So there you have it.  If you are a commuter, recreational cyclist, or riding a beach cruiser, using ear buds instead of listening for traffic and other cyclists, you might consider this product as a more safety-conscious alternative. It's just not for racer-types or someone who needs to lose a few pounds.