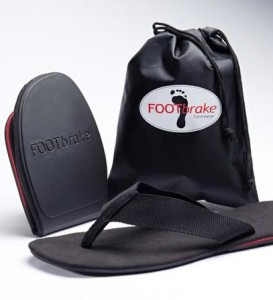 Imagine this: You're on a multi-day tour, or maybe just a long ride with 7,000 or more feet of climbing and it's hot outside.
Ok, forget all that ambition.  What if you're not doing those things.
Your ride isn't even half over, and suddenly your feet are BURNING HOT. You need to take off your shoes for a:
FOOTBRAKE
Luckily you packed 'em. A pair of flip flops (aka thongs) that fold in half and slip into a handy sac that fits in the back pocket of your cycling jersey.
So simple I wish I'd thought of it. Perfect for lunch at an outdoor cafe.
Available online at footbrake.net (see site for store locations) price: $30.00