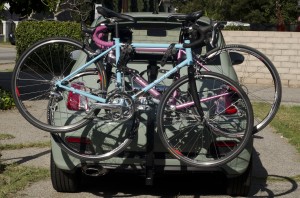 A car on a bicycling site?
Standing a mere 5′ tall, I've had more cars that put me exactly at eye level behind the steering wheel. They didn't fit any better than most of the bicycles I've owned. With this website, I have a place to share all things "petite" with you. And, since we must occasionally transport our bikes by car, I offer you this practical tie-in.
I purchased a Fiat 500 (no they didn't give me one), after both door handles on my VW beetle broke off in my hand. Bad design, inferior materials and wretched customer service led me to stray from the Volkswagen family even though my loyalty to them exceeded their appreciation of me.
Sitting behind the wheel of my new Fiat 500 gives me the same feeling of confidence I experience while riding my Rodriguez. It fits!
Simply put, the Fiat 500 is not an imposter. It doesn't pretend to be anything ostentatious. For a car with a list price under $18,000 the car is: 1. Fun to drive. 2. Lean on unnecessary extras. 3. Stylish in a unique way– with appointments you won't see on any other car.
When I say fun to drive. I got the sport model with a manual transmission. The throw distance on the shifter makes me feel like I'm driving a sports car rather than an econobox (like the Toyota Yaris or the Honda Fit). I feel the road beneath me. The handling and power give me more than I need. A small "sport" button on the dashboard activates the sport suspension and more responsiveness of the throttle. As my son is quick to point out, it's great to have a small responsive engine that you can really drive instead of an overpowered sports car that you can never fully enjoy.
After reading how Japanese auto parts were turned away from the Russian border due to radioactive contamination, it made me pause. One of my concerns continues to be the global environmental impact of the nuclear disaster at the Fukishima Dai-ichi plant. The idea of sitting in a radioactive car didn't sit well with me.
Neither did the idea of owning a Prius. Those batteries have a massive carbon footprint, which not only adds a tidy sum to your purchase price, but also leaves the planet with some nasty hazardous waste. Besides it's just plain ugly. My stylish little car gives me around 34 mpg (combined city and highway) and I'm learning how to get better economy.
Which brings me to the features on the Fiat. The most terrific one is the Blue & Me on-board Bluetooth and computer. It seamlessly pairs with the smartphone of your choice, downloading your contact list, and making hands free calling effortless.
In addition, the Ecodrive on-board computer will transfer the driving data it has collected onto any USB device when plugged into the port in the glove compartment. You can then transfer this data to your home computer for analysis with the Ecodrive software. Ecodrive gives you an economy rating with tips on how to reduce fuel consumption and your carbon footprint. Ecodrive requires one week of data to come up with your eco-rating. For example, my current driving style indicates a need to shift at lower RPMs for more fuel economy. Drat…I was having so much fun!
The sport model also features a Bose stereo–something any child of the 60's would appreciate. The stylish dashboard and cockpit resemble a fancy espresso machine. What else would you expect from an Italian automaker?
The cockpit was designed for driving. Buttons on both the front and back of the steering wheel leave you no reason to take your hands off the wheel unless you didn't purchase the climate control option and need to adjust the cabin temperature. Unfortunately, the button that controls the air conditioner does not light up very well during the daylight and determining if it is on or off can be a bit distracting. The steering wheel has buttons that operate cruise control, cellphone, on board computer as well as media player selector and volume. Once paired to your smartphone, your caller's name magically appears in the cockpit's digital display.
Even though I was quick to point out that the Fiat 500 is lean on unnecessary extras, there are a few improvements this car could use — like a locking gas cap, as well as a glove compartment light and lock. However, I wouldn't (and didn't) consider the lack of these items, "deal breakers."
Finally, and most important– as it relates to cycling, I would like to fold the back seat of my car down (like on my beetle) so that I could have a flat, hard surface for my bike, rather than risking a tear in the upholstery by placing it on the top of the back of my folded down, rear seat.
Fiat's answer? Who wants to put their bike inside the car anyway? For roughly $640. you can have a hitch put onto your vehicle along with a Thule manufactured bicycle rack which holds two bikes. The Fiat specific rack, is equipped with strong, large rubber "stay-put" cradles that have "detachable" anti-sway cages to prevent bike-to-bike and bike-to-vehicle contact — a hallmark of Thule's appreciation of the bike owner's investment. The rack has two levers, one at the bottom, near the hitch, which folds the arm down and away from the rear hatch enabling easy entry into the rear of the car. The other is at the top which folds down when no bicycles are being carried. The rack is made of 34 pounds of heavy, high-strength steel. I love Thule products and have one of their fabulous rack systems on the family car. My biggest objection to this particular product, is that there is no built-in locking system to lock the bikes to the rack, or the rack to your car.
For roughly $50 dollars more, you can purchase a Snug-Tite II lock separately to secure your rack to the receiver. I would be nervous stopping for lunch or even a quick run to the market without some sort of security on my investment. So, in addition to purchasing a Snug-Tite II lock, I suggest using a heavy duty bike lock to secure your bike to the rack.
However, the better solution for the petite rider is to purchase Thule's Helium 2-Bike Hitch rack separately and bring it to Fiat to install (or install it yourself). The Helium weighs 13 pounds lighter and is equipped with both an integrated locking cable as well as a Snug–Tilt lock to secure the rack to the receiver. With this much lighter design, I am able to replace and remove the rack from the hitch when it is not being used.
I've had my Fiat since the end of January and I still love this car!