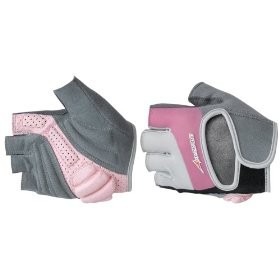 As an experienced seamstress, I notice things like the quality of materials (fabric, leather, thread and foam), as well as construction (stitching and finish of seams). 
These gloves (geared for women), have the sturdiest construction of ANY I've worn.
   I got two sizes: small and medium.  I found the small ones initially a little too snug and opted for the mediums, until one day when I'd forgotten to wash them and needed a different pair.  Thirty minutes into my ride,  the smaller size had stretched enough to comfortably accommodate my hands.
A few observations about these gloves:  The super soft gel foam padding feels like it's ever-so-slightly in the wrong place for me.  Not by a lot, but small amounts on a small space like your hands make a big difference.  I kept trying to tug on the padding to adjust its position under the heel of my thumb.  Everyone's hands are different, so this may not be a problem for you (I have a bit of arthritis).  I've worn these gloves over a year and the padding has compressed and deteriorated faster than the leather or fabric.  The breathable full stretch back of the gloves does indeed contour to the back of your hands, and the absorbent sweat wipe is handy and effective.
Avenir gloves will keep your hands protected probably longer than many other brands but maybe with a little less shock absorption over time.
My only other issue is the design of the glove which leaves an open space between the top of your hand and the velcro closure.  Sun will leave your hands with a strange tan.  This isn't really a problem if you're a tattoo lover…
If you're having problems locating Avenir products, check the internet.  It seems to be the best source (in my geographic area) for Avenir products.  If you can find a pair of their gloves, by all means try them out– for rough roads, trails or paths, they may be the solution you've been looking for.