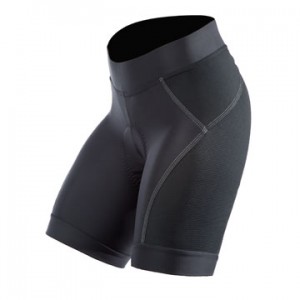 The Specialized RBX Cycling Shorts were designed for long distance performance which is why Specialized recommended them for my first century(s) — the 2011 Seattle to Portland ride (100 miles/day for two days).
The RBX chamois is larger than those in most other shorts I've tested, reaching far enough to offer protection to the upper inner and posterior thigh, with high density foam positioned under the sit bones for pressure relief and maximum comfort. The chamois is seamless and stretchable, its edges taper off in thickness and are reinforced with minimum stitching to avoid chafing.
I love Specialized's "VaporRize" fabric, which has the required wicking ability for fast evaporation, but also stretches in all directions, providing comfort hour after hour. The panel construction is unique, making the seams less noticeable and less likely to cause irritation.
Even though I love BG products, I have to say that these shorts just weren't cut for my body type.  The 2 inch wide waistband is designed to be non-binding, but with my extremely short waistline there's enough elastic to folds over itself having the opposite effect. In addition, the almost 1 1/2″ wide bottom leg gripper elastic is a little loose on my legs even though I was wearing their size small.   I was able to increase the bulk around the elastic by folding it up once, and this adjustment made all the difference.   By doing so, I reduced the 9″ inseam  slightly so that it was more proportioned to my size.
Long-waisted women (petite and otherwise), would do well to try these shorts, especially for rides exceeding 70 miles.