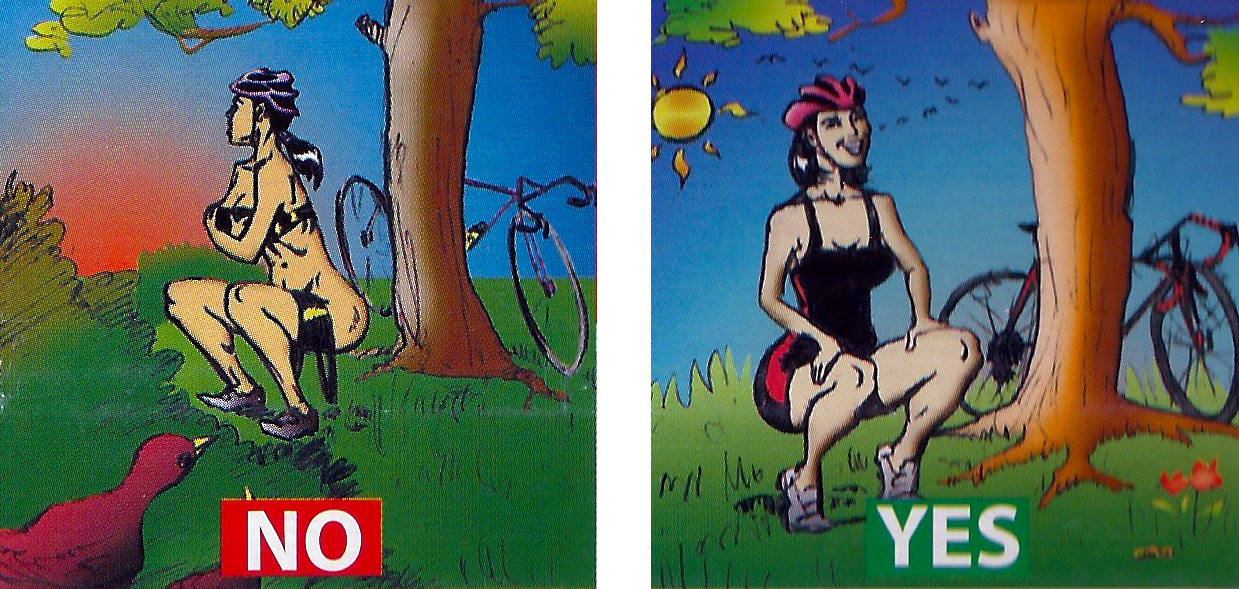 I always thought women had smaller bladders than men.  Not so, says Dr. Oz. The walls of a woman's bladder are only slightly thinner.  However the placement of the bladder in a woman's body cavity is significantly different from men– especially after childbirth, straining and menopause.
I don't know about you, but  I drink a lot of fluid before a ride and can't tell you the number of times I have to use the can before I leave the house.   My constant need to pee has made me shy away from any desire to own a pair of bib shorts.
By their very nature, bib shorts confuse me.  I don't know why men swear by them.  I can't seem to figure out how to wear one (like wearing tights and a leotard–which goes first?).  Do I wear a bra underneath the bib when I don't usually wear a bra at all?  If I have to strip down to take a piss on the side of the road (even if it's behind a tree), then I'd better show a little modesty, or risk getting arrested, right?
And, what if I'm using a porta-potty? I don't want to have to take off my jersey and hold it in my hand while I'm taking care of business in such cramped quarters.  Better to take the cycling jersey off, while outside the can, and and put it back on afterward.  A bra can help in this case as well.
But with all these bib-related problems, why even bother?
If your body is not young, buff and perfect, and you don't want your soft sides hanging over the edge of your shorts or the waistband digging into your waist, then a pair of  bib shorts offers a terrific option for both comfort as well as slim looking lines.
I wouldn't be even be writing about bib shorts if it weren't for a particularly ingenious design by the folks who invented the remarkably comfortable Avant saddle.  The two go hand in hand.  If you really want to buy one of these great bibs I'm about to tell you about, then you must also commit to one of their saddles.
What is SMP's marvelous solution?
A zipper.
Yes, a zipper hidden in the thick chamois.  It's a zipper an inch and a half shorter on each end than the length of the chamois from front to rear.
A zipper you ask?  Isn't that uncomfortable?
Not if you have an SMP saddle.  That's the point.  In my saddle review,  I said the model for the saddle  must have been  a well-endowed man.  Here's how Selle SMP describes their innovation:
You can finally satisfy your physiological needs without the stress caused by undressing.  The central channel of the Smp4bike saddle range allowed us to develop an innovative pair of shorts with a zip in the lower part.  The zip neither rubs on the saddle nor constricts your private parts: you only realize it's there in the moment of need.
Brilliant.
That's right.  You can unzip, take a step sideways, squat, and pee behind a tree just like the guys.  No shivering.  No over exposure to the elements.  No wishing you were wearing a bra.  You simply squat and go.
Are there any drawbacks to the design?  Mostly no.   But if your breasts are sensitive and the straps don't lay flat against your anatomy in just the right place, you might find them a little annoying and prefer the additional protection a bra offers.  Or, if you try and wear these bib shorts on a bike without an SMP saddle, you will be very uncomfortable and probably very sore.
I will warn you, if you need to do more than pee,  I would suggest pulling down the bib just like any other pair of shorts.  There is no easy way.  Without going into details, my experience suggests that the zipper on these shorts was designed to make it easy to take a leak.  So, drink up and enjoy this incredible design.  The fear of not being able to find a bathroom should no longer worry you.
But I do have one other question for you, Dr. Oz. Why does the urge to pee sometimes seem just as strong for two teaspoons as it does for two cups?