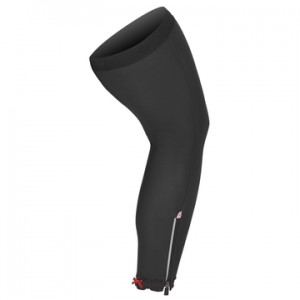 Someone at Specialized has a sense of humor. I mean putting on a pair of leg warmers is a little like wearing a pair of thigh highs… isn't it? So to give us gals a giggle, they've added black lace and a Specialized red bow to the ankles and wrists of their leg and arm warmers.
In all practicality, I thank Specialized for this little touch, as these visual aids help us in identifying our gear from the rest of the laundry load.
Left and right sides are conveniently labeled as the designs on both leg and arm warmers are side-specific. All panels are made of Specialized's unique (fleece-like) Therminal™ fabric for additional warmth.
Leg warmers have slightly angled zippers for easier on/off, (although I don't notice a difference since  I alway struggle trying to take leg warmers off –with my shoes still on).  Zippers are equipped with a reflective trim for extra visibility. A wide 1.5 inch "plush" elastic band at the thigh uses the Specialized logo in a silicone treatment as grippers to minimize inevitable bulges.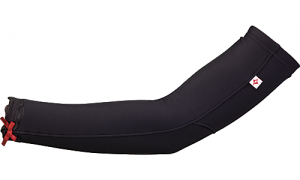 Arm warmers have encased elastic in the upper arms to avoid chafing and irritation to this notoriously sensitive area of skin, while still holding them in place.
Nice touch Specialized. Your Therminal™ fabric  doesn't seem as flimsy as the competition!