Do you have a bunion or two? How about a Morton's Neuroma?  Do your feet tend to swell when they get warm?  Does cycling give you numbness or pain in the bottom of your foot (also known as Hot Foot)?  Have you noticed that your arches aren't what they used to be?  If, like me, foot issues plague you, it's likely that the heels we wore (or are still wearing) are part of a bigger problem that I will not even attempt to address in this review.
What I will go out on a limb to tell you is that before you buy a pair of cycling shoes, you owe it to yourself to try a pair made by Specialized.
Specialized has teamed together with Andy Pruitt from the Boulder Center for Sports Medicine to develop shoes that are actually engineered for cycling.  Specialized manufactures the only cycling shoe on the market with a patented arch support system.   They spent considerable time and money in their body geometry lab to deserve my accolades.
Specialized understands that feet, like people, are all different.  They even recognize that your left foot might be different than your right, and came up with a diagnostic tool to help determine the correct level of support.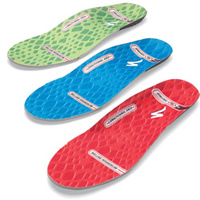 Their "arch-o-meter," is a big heat sensitive pad that you stand barefoot on, for a minute or so, and then compare the impressions from your feet to a chart, which suggests which level (there are three) of support you need for your shoes.  You can use this heat sensitive pad to get a relative idea of whether you need red, blue or green footbeds. However, if you haven't ever had a bike fitting, then now might be the perfect opportunity to have a trained BG bike fitter evaluate the correct level of support for your feet.
The three levels of Specialized's BG (Body Geometry) footbeds attempt to further improve pedaling efficiency with these key components:
Longitudinal Arch-This keeps your foot supported, like a board, for even and direct pressure throughout the pedal stroke.
Metatarsal Button- A "button" placed under the metatarsals alleviates compression of nerves and arteries that occur naturally, when the foot flattens during cycling. This button disperses the pressure that can cause hot foot from the additional flow of blood to the area.
BG Shims- These plastic shims are included with every footbed purchase and help to further customize support when there is evidence of forefoot varus or valgus.
Additionally, all BG footbeds have ventilation holes under the areas of the arch and toes.

Women's BG Torch Road Shoe
Cost: $115.00
This is Specialized's mid-level shoe that still retains their BG patented design.  It has a wide enough toe box for my ever-growing bunions. The shoe weighs less than others I've worn (Sidi, Pearl Izumi and Shimano), but is still heavier than the more expensive BG models with full carbon soles.
The Torch's construction is solid with a stiff injection molded sole, two Velcro closures and one "M lock SL buckle" for secure closure.  The shoes can be easily loosened with a simple click to the red button, even while cycling, but, the M lock and SL buttons sometimes get a little sticky while trying to get fully in and out of the shoe.
The shoes are designed with ventilation holes on the underside (in front of and behind the cleat attachment points) as well as with mesh areas on the synthetic uppers, which ventilate the feet and help minimize swelling.  Specialized's Torch Road shoes fit both SPD and 3-bolt cleat systems and are available in black with crimson accents, or white with lavender accents.
Prior to wearing these shoes, I rode with custom orthotics, designed for walking, (not cycling) and suffered from hot foot and foot fatigue.
I've been wearing the Women's BG Torch shoes for the past five months with the blue (level two) footbeds and no orthotics.  Initially, I noticed a decrease in pain, as well less Hot Foot.  Over time, the pain returned suggesting the need for footbed replacement.
My BG bike fitter suggested that since my footbeds were worn both in the heel and metatarsal button but not the longitudinal arch, perhaps it was not making sufficient contact with the shoe while pedaling.  I've since moved to the +++ level (green) insoles for maximum support.  Additionally, I have considerable varus forefoot angulation, which significantly decreased my biomechanical efficiency and contributed to a loss of power.  He added shims to the insides of my shoes for additional support.  Consequently, my legs are not as wobbly and I'm transferring more energy into the pedal making me more efficient and faster.
These are the best cycling shoes I have ever worn.  My feet stay cool and comfortable.   However, for even more comfort, and a lighter weight shoe, I would strongly consider the women's BG Pro Road Shoe ($260.) or the Women's BG S-Works Road shoe ($350.) if either are within your budget. If not, try adding a pair of footbeds to your current road shoes to see if you can extend their life and make them more comfortable.
As a side note, my son's foot pain persisted with 5 different pairs of cycling shoes, until he got a pair of the Men's S-Works Road Shoe.  Now he consistently reports that his feet have remained pain free.
The added cost of these higher end shoes is significant, but, how often do you expect to buy a new pair of cycling shoes, anyway?