Do you  rip off your shoes after a ride because of  hot foot or pain? If your feet have become the limiting factor on your rides, it may be time to step up to Road Snob quality.  Specialized has finally introduced their Tour De France quality  S-works shoe for women. Unlike previous versions for men, this shoe has two boa dials for complete adjustability both in the arch and forefoot, and the ankle and heel.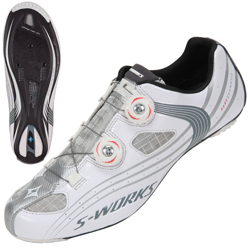 If you suffer from bunions, you know they deform the normal shape of the foot and require additional toe box room for comfort, especially after your feet warm up and begin to swell.  The boas provide the means to adjust the tightness of the shoe in tiny increments, even while cycling.  I actually leave the arch and forefoot boa completely open.
To help with hot foot, generous venting can be found  on the tongue,  toebox sides and even the bottom of the shoe.   The sole of these shoes has a stiffness rating of  12.0 and they are made from the same Specialized's proprietary FACT (functional advanced composite technology) used to manufacture their bicycles.  This stiff, lightweight sole will help disperse the force evenly to the shoe in an effort to reduce hot spots. Each shoe weighs a mere 205 grams (under half a pound) and will facilitate a better spin thus relieving pressure on the soles of your feet as well.
The S-Works shoes contain the same features as all BG footwear like the Torch Shoes (reviewed earlier) including a longitudinal arch, varus wedge, adjustable forefoot shims and replaceable footbeds.
Specialized set the price tag of these shoes at a whopping $350., but they've engineered a pair of shoes that can be repaired as they break or wear out (besides just the footbeds.) So when the rubber on the heel becomes worn it just means the tread needs to be replaced.  Specialized created a set of internally recessed screws to access the tread from the inside of the shoe. If the monofilament lace breaks, it too can be replaced.  The outer shoe material can be easily cleaned with a wet rag to maintain a clean appearance.
Finally these shoes are designed to fit on any pedal system that accepts a three bolt pattern including Speedplay, Shimano SPD-SL, Look, and Time.
So if your feet are ruining your rides, treat them right and get them a pair of S-Works shoes.  If you try a pair on you'll notice the difference immediately.  I did.
And yes, they come in a fabric bag.