P.R.O. Octane-
One online reviewer dubbed this outfit Shamu (as in whale) a name that has, unfortunately, stuck around our house. Though I have to admit its overall look does resemble that of a killer whale, no other cycling outfit feels as nice or –would you believe "sexy," –next to my skin. This is, of course, no surprise from Pearl Izumi's top-of-the line outfit manufactured in Italy. They call this product "insanely anatomical," claiming the fit conforms to your body. It does. This might not always be a good thing unless you are young and buff, otherwise you might feel like a whale.
The jersey design is surprisingly cool in spite of it's largely black color. It has two generous side panels of contrasting vented (and antimicrobial), white fabric to help with heat transfer and fight odor. There's also a vented panel in the mid back.
A bright red collar accents the jersey in addition to a double line of red top stitching that extends out from the top and back of the raglan sleeve design to the to the end of the much shorter capped length sleeves. The collar also has a reflective "zipper garage" that safely stores the zipper so it doesn't rub against your neck. There are three pockets in the rear, one of which is waterproof, with a zipper and reflective flap, to keep your cell phone safe and dry.
The back of the waist has a 9" panel of the same elastic with silicone grips found in the legs of the matching shorts.Otherwise, no restrictive or binding elastic in the sleeves or waist can be found on this jersey, making it a pleasure to wear on long rides. The use of contrasting fabrics and top stitching create lovely lines which are both slimming and flattering.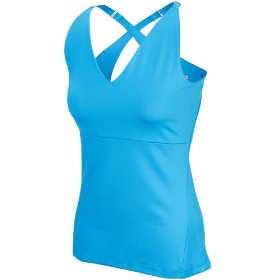 I almost didn't take this strappy number from the Elite series with me on Cycle Oregon. But when temperatures were forecast for the 90's, I was glad I did. The upper portion of the Elite tank is lined, and also has a built in bra, which conveniently doubles as a storage compartment for ice. Yes, I actually did this. The straps are adjustable. I heard passing women riders comment how nice looking it was. I actually found the tank top difficult to put on correctly and thought the solitary pocket in the rear was oddly shaped and placed—except for perhaps a snack. Ride with friends or put on copious amounts of sunscreen or you'll end up with a very strange tan/burn.